The House of Pizza & Calzone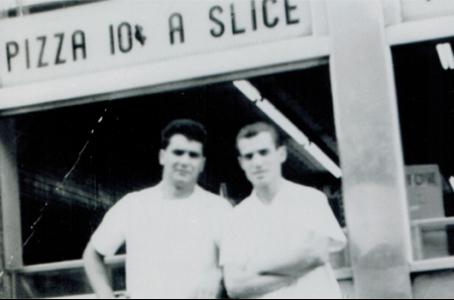 The House of Pizza & Calzone was established on Union Street, in South Brooklyn, in 1952.  Originally named "Simone's", after its owner. History has it, that the store had to be sold to pay off a gambling debt Simone had obtained with a local bookie. He would wind up selling it to the two young men who worked for him at the store, Giovanni and Onofrio. The two were immigrant friends who migrated here from a small coastal town in Italy called Mola di Bari.
Once the purchase was made, they changed the name to The House of Pizza & Calzone. And of course, they made sure to include in the title the one traditional item they brought with them from home, the calzone! The calzone originated from the Apuglia region on the eastern coast in southern Italy where the two boys hailed from. Traditionally fried and stuffed with cheeses and meats, the calzone was a perfect complement at the time to the still relatively new food concept called pizza. Both items possessed the characteristics necessary for the working class folk who lived and worked in the area; minimal prep time, portability and must important, it was relatively inexpensive. There have been many elderly customers who continuously remind me that they used get pizza here for only $0.10 a slice! And calzones were only a quarter! Ahhh! The good ole days!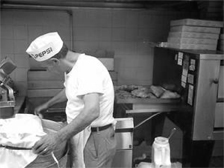 Since then, although the neighborhood has gone through a cycle of both good and bad, The House of Pizza & Calzone has been servicing the working waterfront and it's residents for over 60 years. Still located on the same block it originated back in the early 50's, The House of Pizza & Calzone has become both a popular and essential part of the fabric of this wonderful South Brooklyn neighborhood. The two partners continued to own and operate the establishment until 2004, when the decided to sell and retire after years of hard work, sacrifice and dedication to the craft they brought with them from their childhood in Italy and honed over the years here in Brooklyn, U.S.A.
We, here at The House of Pizza & Calzone, have taken an oath to continue the tradition that the people here before us strived so hard to achieve and hope to carry on the tradition to the next generation of pizza and calzone lovers.